The Limited Liability Company «Scientific Production Center «SPECTEHNOMASH» offers the complex of services and products for the manufacturing of ammunition for small arms of all major calibers: 9×18mm; 9×19mm; 5.45×39mm; 5.56×45mm; 7.62×39mm; 7.62×51mm; 7.62×54mm − the production technology based on the use of high-performance automatic rotary lines, and as well as 12.7×108mm; 12.7×99mm; 14.5×114mm; 23mm; 30mm − the production technology based on the modern multi-position presses.
The cartridge production technology is based on the use of high-performance automatic rotor lines, modern automatic press machines and thermochemical equipment of technological continuous action.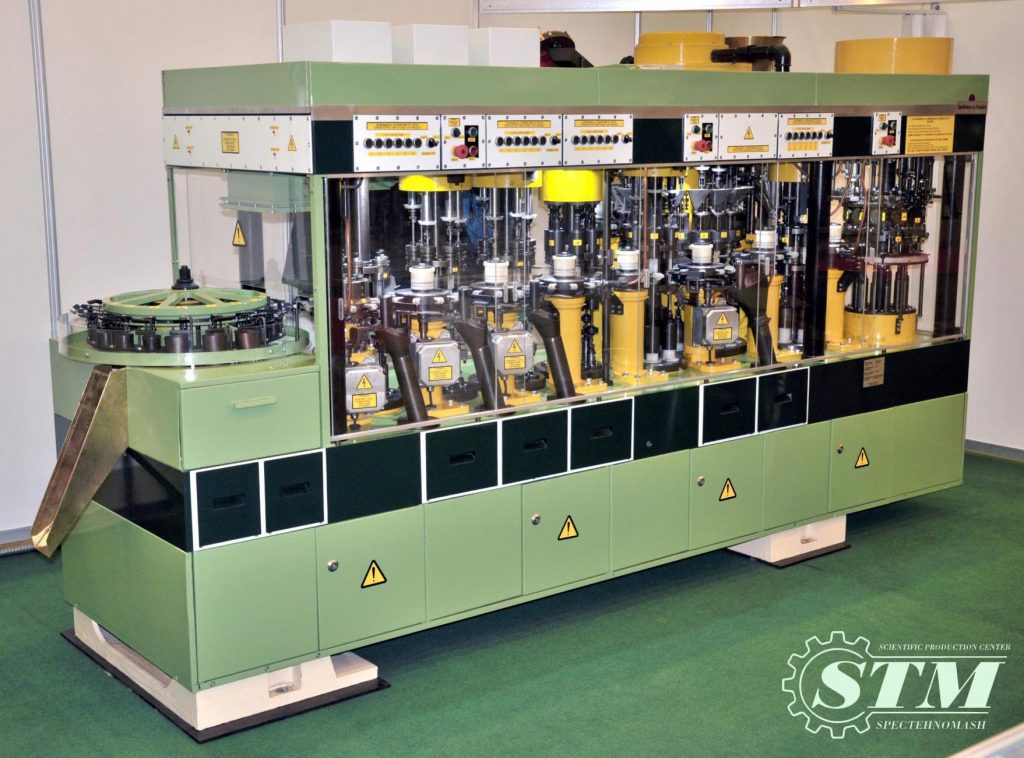 Complete integrated automation on the basis of automatic rotor lines allows:
To get the stable technological process, which guarantees the consistency of manufactured products;
Steady technological process which provides high enduring quality of the manufactured products;
High reliability and technological readiness of equipment and tools;
Possibility of 100% control of products in the technological flow;
High efficiency.
The main advantage of the offered technology on the basis of automatic rotor lines over the traditional technology is that the processing and control of parts is carried out in the process of transport movements of work pieces and working parts.
This principle provides the necessary efficiency. Compact equipment location and the minimum number of employees give the high productiveness.
With the modern scientific and production capabilities, the technical level of which is based on the experience of production of automatic process equipment, the enterprise provides high-quality technological equipment for the production of ammunition, tools, test equipment and package.
The quality assurance system in the enterprise is based on the experience of manufacturing and supplying various products to the Customers requiring high reliability.
Taking into account the requirements of the Customers, the company provides:
Comprehensive approach in production of products;
Possibility of turnkey manufacturing equipment delivery (under a separate contract);
Provision of supplies to the Customer of equipment and materials for the production of ammunition;
Provision of technical documentation, and, if needed, highly skilled production and engineering staff;
Customer staff training;
Modernization and optimization of existing production facilities for expansion of the nomenclature and production ramp-up;
Planning concepts and designing of equipment placement for making cartridges, bullets, assembling and packing of cartridges;
We carry out the post sales service of the facilities to the Customer during the whole service life of the equipment. Supply of spare parts is guaranteed throughout the operational lifetime.
For more information,
please contact us: info@stmua.com